How to Write a Follow-Up Email ( 12 Examples & Templates)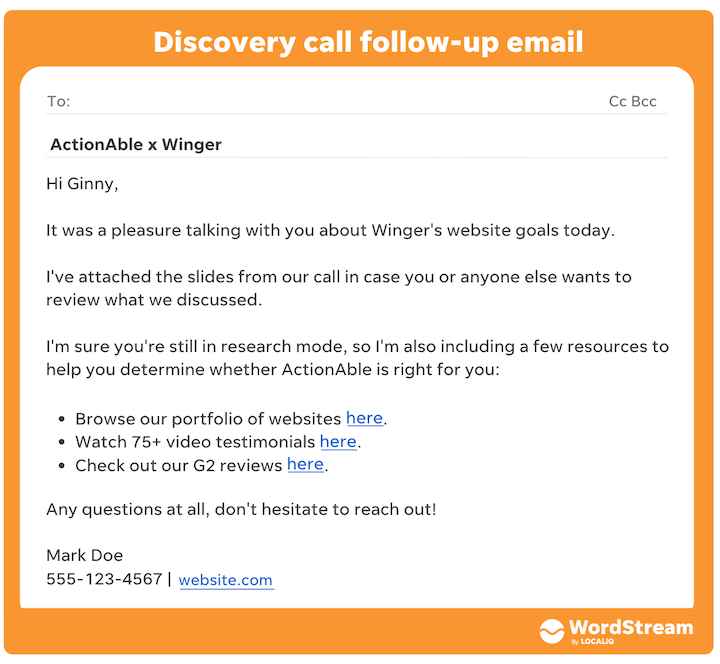 How to write a follow-up email
There are different kinds of follow-up emails, so some of these tips will apply, others will not. And don't forget general email copywriting best practices apply here—keeping things brief, in particular.
Be specific
If you're following up after an interview, introduction, or meeting, personalize it by including something specific the person mentioned—ideally something that you could tell was particularly meaningful to them. This can help jog their memory while also showing that you were listening attentively.
Be genuine
Yes, follow-up emails are pretty predictable and formulaic. But that doesn't mean you can't be genuine in your communication. Don't use generic, empty messaging. Actually reflect on the specific item you want to mention to jog their memory. And if it permits, keep a conversational tone if you can. This is easier to read and write, and the person won't feel obliged to use formal tone in their response.
Include the original message
If you're following up on a previous email, do not make the recipient search for the original email and do not rewrite the email. Reply all to your email and then remove yourself from the recipient list so the person can have all of the context they need.
Have one clear ask
With the above being said, don't make them re-read the original email. Distill it down to the clear ask with something like, "Just following up on the request in my email below. Do you think you'll be able to provide that data for the April 25-May 31 date range?"
Content download follow-up email template
Of course, the contact form on your site is just one of many ways to generate leads for your business. Content downloads are another big one. Ideally, you'd have a series of subsequent lead magnets set up to help keep them moving through your funnel, like:
These emails could either be a drip series where you send each one at a pre-specified time all at a set time, or a nurture series where each offer and timing of the email depends on the prospect's preceding action.
As [outcome from tips in first guide], [introduce new pain point or need]. So I'm attaching our [additional resource name] that you might also find helpful—feel free to respond back with any questions you have.
Example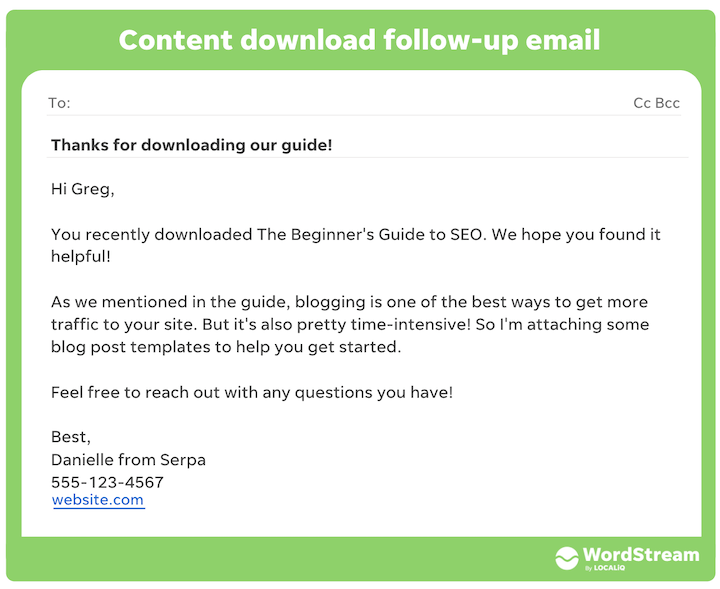 How to write a follow-up email after no response
1. Add value with each follow-up

If only she had provided more information with her follow-up, tried to collect more information about me (her prospect), and sparked interest with something relevant, I'd be happy to reply.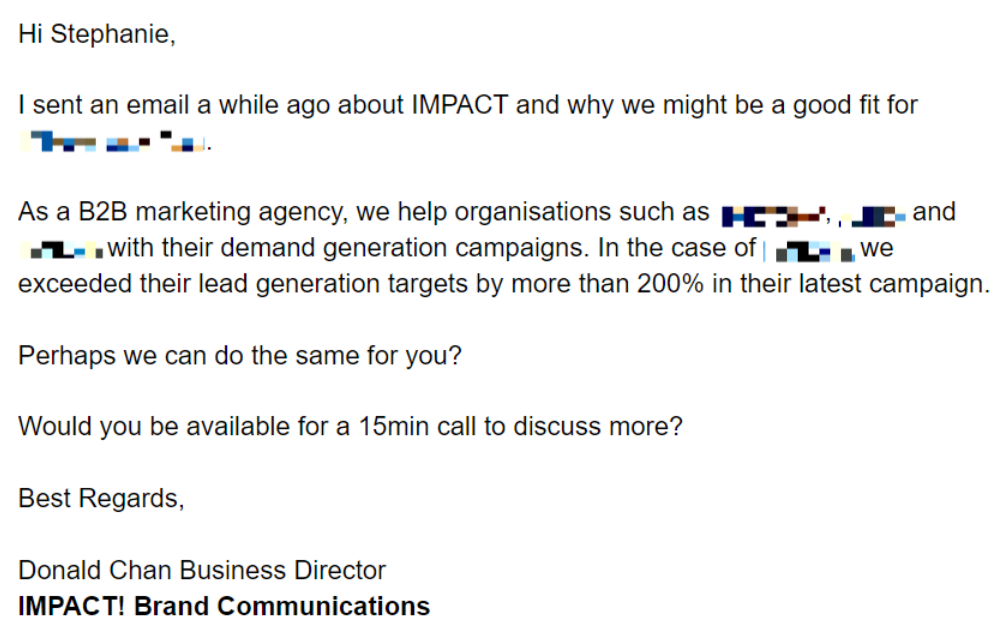 In this follow-up, Donald name-drops a company that he worked with in the past as a form of social proof. This company should be either familiar to the email recipient, whether that's because they're an industry peer, a competitor, or just a famous brand name.
2. Write a catchy opening line
3. Make it short

In your follow-up emails, try to eliminate unnecessary greetings like "I hope you're doing well." Being polite is a must, but it could be easily achieved by using the right style for your email.
4. Personalize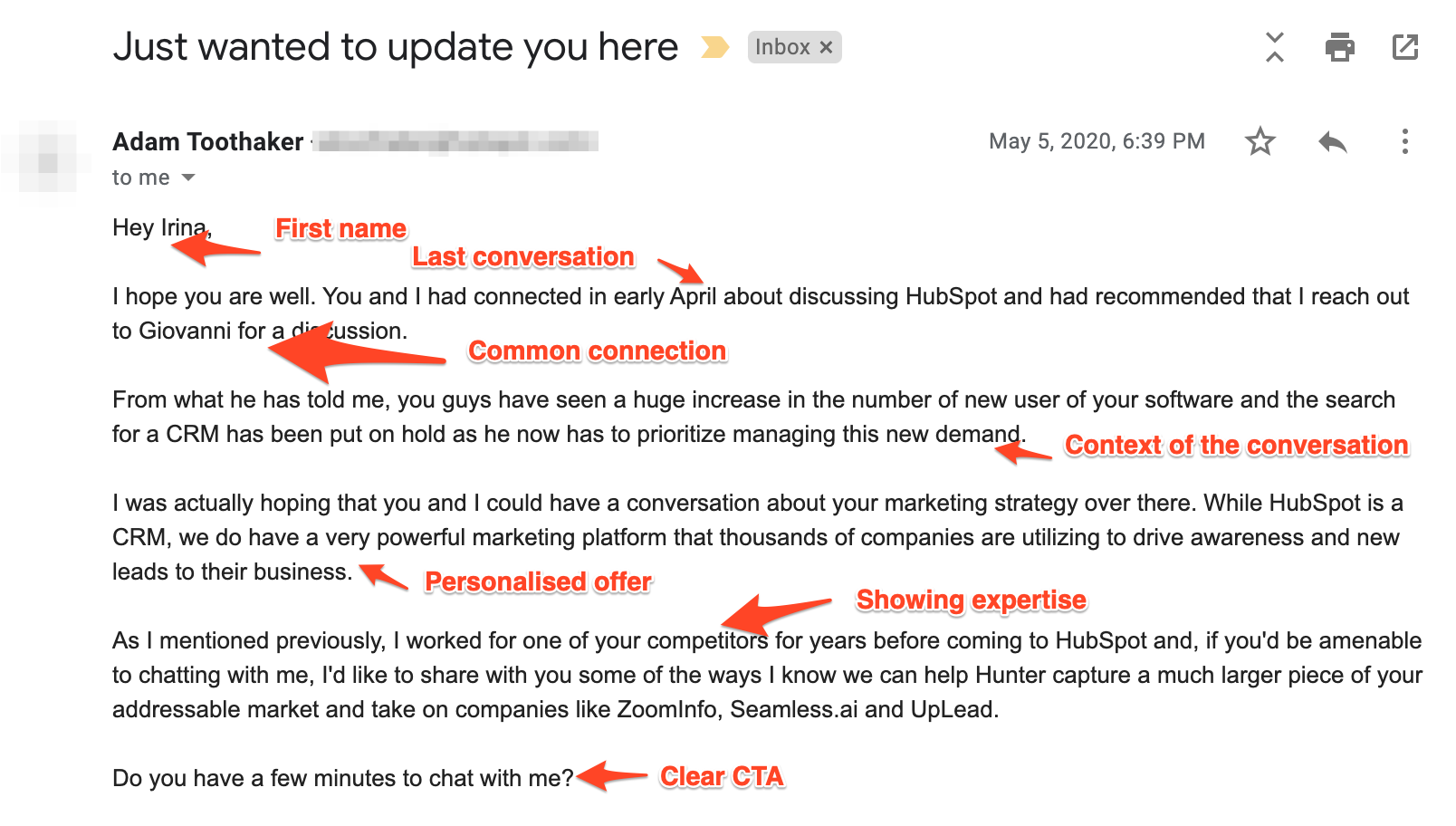 This email is great because it's super personal. Adam did a lot of work by conducting such in-depth research. Besides including essential personalization, he made the follow-up effective by:
While Hunter Campaigns doesn't automate the whole process, it still saves hours of your time. It's always better to spend a bit more time to add a personal touch to each message, even though they will ultimately be sent on autopilot.
5. Add a persuasive call-to-action

The first question you may ask yourself would be, "What does this person want from me?". There is no context, no personalization, no call-to-action. Even if you read the context from the previous email, how do you know what you should do?
On the other hand, if you want to find the right person in the company to discuss a specific topic, ask "Are you the right person to talk about this? If not, could you point me in the right direction?"
Many cold emails are missing or have an ambiguous call-to-action that wastes the prospect's time. Make your call-to-action crystal clear, persuasive, and hard to resist. Tell your prospects what you want them to do.
6. Avoid sounding passive-aggressive

Direct aggression is relatively easy to spot, but more subtle passive-aggressive phrases can sneak into your follow-ups almost without thought. These kinds of micro-aggressions can exasperate your prospects and quickly chip away at the good will and all the mutual trust you have established.

Besides that, try to remove desperation from your follow-ups. Yes, you might be upset because your prospect didn't respond to your previous four follow-ups, but don't show them your distress.
Try to reassess what you can improve in your messages, what reason your prospect could have for not responding to you (wrong prospect, not relevant offer, etc.), your call-to-action, and your offer.
7. Craft a perfect subject line for your cold follow-ups

Try not to be too obvious by having "Follow-up" or "Just checking in" as subject lines for your follow-ups. Be a bit more creative and write a catchy subject line that will make recipients open your email.
This way, prospects quickly get reminded about the offer from the previous email. Moreover, in this case, you can use follow-ups to continue telling the story or offering additional benefits.
However, you can send a different subject line for your follow-up email if your follow-up also contains all the key information. In this case, you give yourself another chance to get attention. At the same time, I don't recommend changing the subject line more than once to avoid looking spammy.
Examples of great subject lines for cold email follow-ups:
Follow-up email examples

1. Your thoughts?
This is a very simple and polite follow-up email designed to keep you and your offer top-of-mind. It reminds the prospect of what you talked about and lets them know you're available to answer any questions they might have.
2. Quick one >
3. Appropriate person
This follow-up email attempts to move the conversation forward by asking the prospect for their availability for a call. In case the prospect isn't the right person you should be talking to, they can direct you to a colleague who's a better fit to continue the conversation.
4. Not a priority?
With this email, you're showing that you genuinely care about the prospect's goals and won't bother them if they don't have an immediate need for what you're offering. However, you're still keeping the line open by letting them know that they can reach out to you at any time.
5. Ideas about [[lead's goal or problem]]
Emailing multiple times and simply asking if they read your previous email or have time for a call can annoy prospects. On the other hand, providing value in the form of educational resources in your follow-up message is a great way to follow up with a prospect.
6. Better fit
7. Permission to close your file?
Fear of missing out can be a great motivator. With this follow-up email template, the idea is to try to get the prospect to respond by making them think your offer won't be available to them anymore.
Follow-Up Email Examples
Note: The content you share with the prospect should be related to their pain points and the solution you are offering, it will resonate with them more than a random unrelated topic they are not interested in.
Giving up hope after sending one sole email isn't the right cold emailing strategy. One of the main principles of cold emailing is being persistent. Follow-up emails have the power to achieve high conversion rates, bring in new business, create strong business relationships, and close deals.
Your job is to craft an email that recipients want to open and respond to. In order to achieve this, follow the above-mentioned tips and write your follow-up email to yield favorable results. Make your content attention-grabbing, relevant and of superior value for your recipients.
A well-crafted email has four key ingredients, the right amount of personalization, value-based content, social proofing, and a clear CTA. If you include all four of these elements, you will start seeing results in no time.
Source:
https://www.wordstream.com/blog/ws/2022/05/09/follow-up-email
https://hunter.io/blog/how-to-write-a-follow-up-email/
https://www.saleshandy.com/blog/how-to-write-a-follow-up-email/?amp